St. Louis Financial and Real Estate Partner Jim Mello Featured in the St. Louis Business Journal
October 25, 2016
Media Coverage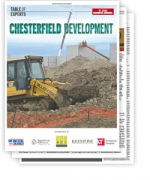 St. Louis Financial and Real Estate Services partner Jim Mello took part in a roundtable discussion for the St. Louis Business Journal as part of the Table of Experts feature on growth and development in Chesterfield, Mo., a suburb of St. Louis. In it, Jim discusses his work for the city of Chesterfield, the evolution of development in the area, both residential and commercial, as well as the impact of events like the flood of '93 and where opportunities lie for future development.
As a senior member of Armstrong Teasdale's Public Finance practice group, Jim focuses on private-public development projects and governmental finance. Jim structures deals to finance cash flow borrowings, infrastructure projects, redevelopment and other projects. He also has significant municipal law and public finance litigation experience and is recognized as special TIF counsel serving in connection with numerous redevelopment projects throughout Missouri, including the Chesterfield Valley redevelopment.
The 10-page feature appeared in the Business Journal's June 17 issue. To read the full story including Jim's perspective, click here.