Business Transaction Update
October 14, 2020 at 9:00am

–

10:00am
(CST)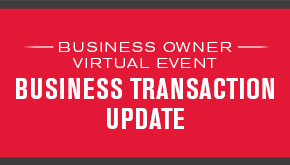 Please join us for a private, interactive discussion to learn more about the current business transaction environment including:
Will EBITDA multiples return to prior levels, one turn higher, or two turns lower?
How will the current market affect the value placed on my company?
EBITDA"C" – Can I really normalize my business interruption related to this economic downturn?
Should I take advantage of the market and bolt on an acquisition?
What can I do now to improve the probability of a successful transaction and maximize value?
What strategy should I consider - family succession, merge, raise private equity, sell, or form an ESOP?
Are there ways to recapitalize my company and create liquidity in my estate and still maintain control?
In today's stock market, what would I do with my money if I did pull the lever?
Do legal concepts of force majeure or material adverse effect apply to my commercial contracts?
This is a great opportunity to hear from deep subject matter professionals actively involved in the deal markets. There is no formal presentation, but rather a robust discussion with and between professionals actively working buy side, sell side and recapitalization deals.
HOST
Jerry Townsend, CPA, Midwest Regional Managing Partner | UHY LLP
ROUNDTABLE DIRECTOR
Steven P. McCarty, CPA, CMA, Managing Director | UHY Corporate Finance
ROUNDTABLE PANEL OF EXPERTS
Mark Stoneman, Partner - Corporate Services Group Leader | Armstrong Teasdale
Robert Bauer, CPA, Partner | UHY LLP
Meg Fisher, Market President | CIBC
Brendan Gallagher, Certified Fund Specialist | UHY Advisors Financial Services
Jeremy Falendysz, Managing Director | UHY Corporate Finance