Minimizing Disputes in Construction Projects Through Effective Construction Auditing
November 14, 2019 at 12:00pm

–

1:00pm
(CDT)
David G. Loseman
,
Amina Terry
,
CCA
,
CCP at Brown Smith Wallace and Henry L. Woods
,
Jr.
,
CCA
,
CCP
,
CRIS MBA at Brown Smith Wallace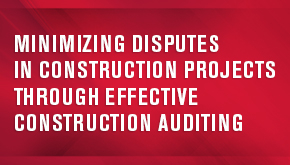 Join NACA for an interactive construction auditing webinar featuring speakers from Armstrong Teasdale and Brown Smith Wallace. The presentation will cover strategies for risk mitigation before the construction project, potentially unfavorable terms and conditions in a construction contract, and examples of best practices organizations have applied throughout the lifecycle of a construction project to avoid risks that confront project owners before, during and after construction.

Some of the business challenges that will be addressed during this learning program include:
Pre-project planning – contractual safeguards before every project
Contracting boundaries – setting perimeters during contracting allows for future meaningful relationships
Project controls – maintaining transparency with construction auditing
This program qualifies for one (1) hour of Continuing Professional Education (CPE) credit.