When the Government Calls: Managing Major Civil and Criminal Investigations
November 17, 2021 at 12:00pm

–

1:00pm
(EDT)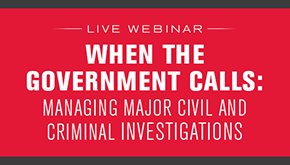 In this age of close corporate scrutiny, public and private businesses increasingly are being targeted for intrusive civil and criminal investigations. While federal investigations predominate, state and even foreign government agencies also are becoming more aggressive in pursuing perceived corporate malfeasance. Major civil and criminal investigations can be incredibly disruptive, not just because of the time and expense involved, but also because of the harm to a company's reputation and supply chain. In-house counsel often are performing a high-wire act, balancing corporate interests in transparency and responsibility, with the need to control and manage the legal aspects of the investigation. Join Armstrong Teasdale Partners Timothy Bergère, Katharine Ladd and Michael Witsch as they discuss these issues and share real-world examples, tips on mitigating risk and exposure, and advice on how to respond and act nimbly when your company finds itself at the center of an investigation.
This program has been accredited for 1.0 Colorado, 1.0 Delaware, 1.0 Kansas, 1.2 Missouri, 1.0 Nevada and 1.0 Pennsylvania Continuing Legal Education credits. Illinois and Utah Continuing Legal Education credits are pending.
New York CLE – Under New York's Approved Jurisdiction policy, so long as certain requirements are satisfied, New York attorneys may count towards their New York CLE requirement credit earned through participation in out-of-state courses accredited by a New York Approved Jurisdiction.
Massachusetts CLE – While not mandatory, CLE is an important part of practicing law in Massachusetts. The Massachusetts Rules of Professional Conduct (Rule 1.1) encourage attorneys to complete continuing education on a regular basis.
Resources