How IP and Technology are Gaining Importance in M&A
November 5, 2020 at 12:00pm

–

1:00pm
(CST)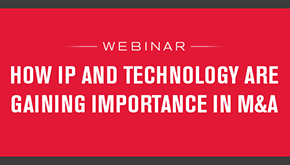 Presented by Armstrong Teasdale and the Association of Corporate Counsel – St. Louis Chapter
While IP assets and technology rights have always been central in businesses involving biotechnology and software, these assets and rights are becoming increasingly critical to "non-tech" businesses as well. Moreover, businesses of all stripes are using IP assets and technology rights to benefit stakeholders and/or gain a competitive edge. This drives the need to better assess the portfolio of rights and related risks in the context of M&A deals. Issues surrounding ownership, trade secrets and technology licensing, as well as customer or other personally identifiable data, are common.

Recent M&A activity has highlighted the need to conduct careful due diligence, identify important IP assets and anticipate related issues that may arise before committing to the transaction.

Join Armstrong Teasdale Partners Mark Stoneman, Courtney Jackson and Scott Galt, along with Associate General Counsel at Caleres Debbie Norman, as they offer an overview of M&A trends and discuss specific issues that impact businesses of all types regarding IP, licensing, data privacy and technology assets.
This program has been accredited for 1.2 Missouri Continuing Legal Education Credits.