St. Louis Corporate Services Partner Steven Pozaric Discusses Health Care in the St. Louis Business Journal
February 10, 2017
Media Coverage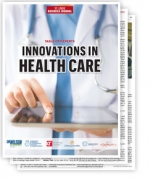 Steven Pozaric, a St. Louis partner in Armstrong Teasdale's Corporate Services practice group, was recently interviewed by the St. Louis Business Journal as part of the Table of Experts feature titled "Innovations in Health Care." In the roundtable discussion with other health care services professionals, Steve touched on the current trends in health care design and construction, the importance of convenience to patients, data security, and the shift to valued-based care and the financial implications of that transition.
As co-leader of the firm's Health Care and Life Sciences practice, Steve helps clients with all aspects of their business – ranging from operational matters, contractual and equity joint ventures, physician and other contracting, tax exempt financing, to mergers and acquisitions. He has significant experience with physician employment agreements, medical staff issues, credentialing and disciplinary matters. Steve also counsels clients on compliance related matters, including the Stark Law, the Anti-Kickback Statute, HIPAA, and EMTALA, and has been involved with internal compliance investigations and self-disclosures.
The 12-page spread appeared in the Business Journal's Feb. 10 issue. To read more about Steve's perspective, click here.
Other Armstrong Teasdale attorneys featured in previous Table of Experts features include St. Louis Financial and Real Estate Services partner Jim Mello, who was highlighted in the St. Louis Business Journal on public-private development; St. Louis Litigation partner Jeff Schultz, who was featured in a discussion on data security; and Kansas City Litigation partner Dione Greene, who addressed employment in the Kansas City Business Journal.
Resources